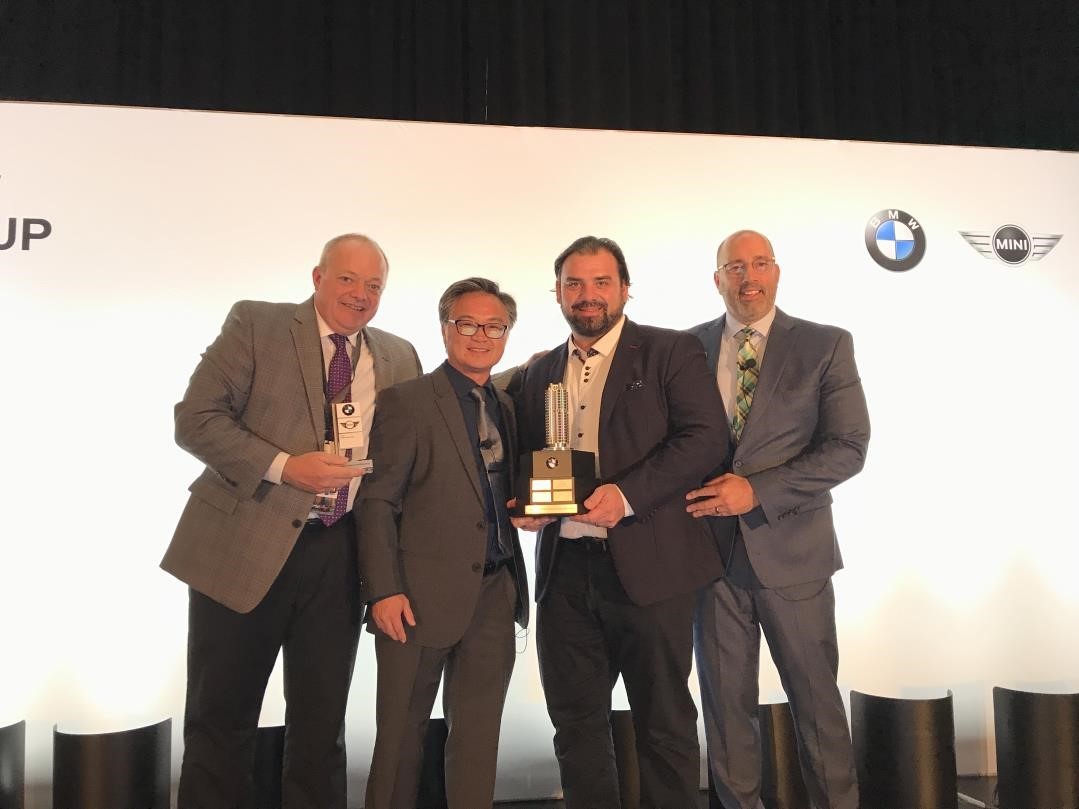 Posted by: Certified Collision Repair Program
Issued: November 7, 2019
CCRC of the Year & 2019 Audit Results

Your Certified Collision Repair Centre (CCRC) is an important part of your overall Aftersales business and customer retention strategy. On October 30th, BMW Group Canada was pleased to present the CCRC of the Year award to John Scetta and the team at Performance Collison & Restyling of St. Catharines, Ontario during the annual CCRC Network Conference. This year's event took place in Québec City from Oct. 28-30. The CCRC of the year award is bestowed upon the CCRC with the best overall annual CCRC audit results. Performance Collision & Restyling won the award with a number one audit score of 99.6%. Recent previous winners include BMW\ MINI Laval Collision Centre (2018) and DonVito Collision & Glass of Winnipeg (2017).
The annual CCRC audits, took place over the course of August and September. The audits take into account CCRC Training completion, OE Parts usage, Repair quality, and CSI metrics among other factors. This year's pass threshold was 85%. We would like to recognize all CCRCs who passed their audits this year and acknowledge those who are activity working with us on their action plans to increase their scores to the pass mark over the next 90 days.
This year saw an unprecedented number of CCRCs with audit scores in the top tier of our Audit results. Below we have identified the CCRCs with an audit score in excess of 94%.
CCRCS WITH AUDIT SCORES ABOVE 94% & REGIONAL WINNERS.
Performance Collision & Restyling 99.6% (Central and top winner)
Excellence Auto Collision Toronto – 99.1%
Auto Bugatti- 98.8% (Eastern Region Winner)
Formula First Collision Centre – 98.8%
Carrosserie Hamel – 98.5%
Burwell Auto Body – 98.3
Golden Triangle Collision Cambridge – 98.3%
Doug's Place Collision 97.8% (Western Region Winner)
Collision Clinic – 97.2%
European Autobody – 96.8%
No. 1 Collision East Vancouver – 96.7%
Budds' Collision Services – 96.7%
B&D Autobody and Glass – 95.7%
Sherwood Collision – 95.2%
Birchwood Collision Centre at Pointe West – 94.8%
L'Expert Carrossier Rive-Sud – 94.5%